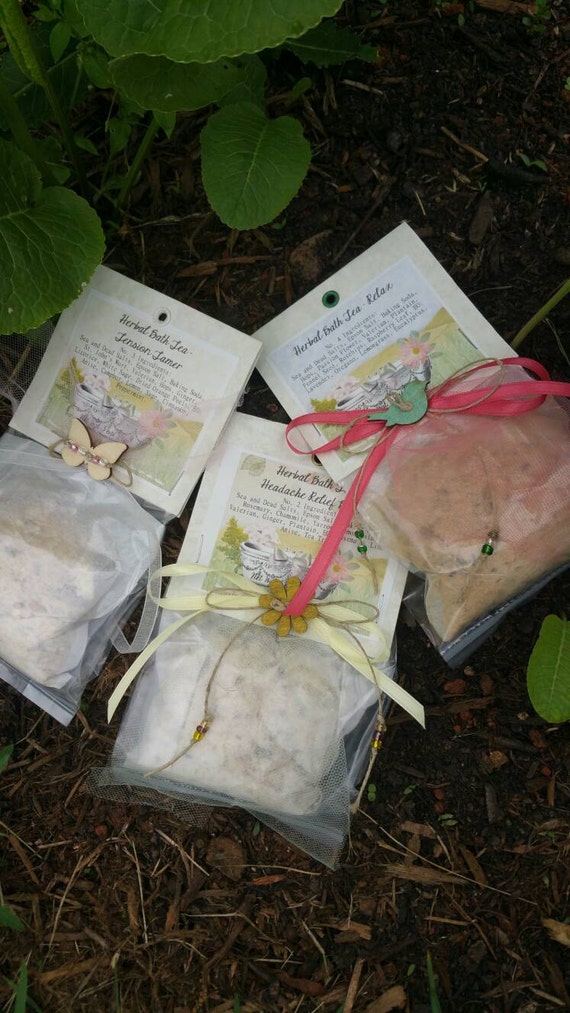 Rhodes Creation's Bath Teas are a wonderful way to unwind at the end of a long day in your bath tub or just as a foot soak. The bath salts in a Muslin Drawstring tea bag is ready to join you when you are ready to take the plunge for a relaxing aromatic experience to rejuvenate and restore the body and mind:
Relaxation at its finest!
Benefits of Magnesium in our bath salts:
Helps you sleep:
Through the stresses of life, magnesium is drained from the body. The average person is already deficient in magnesium, so this draining removes even the small amount a person has in store. Magnesium helps to produce the calming effect gotten from serotonin. The result of bathing in Epsom Salt and absorbing the magnesium are: improved sleep, concentration, and relaxed muscles. A wonderful recipe for peaceful sleep!
Boosts the immune system:
Epsom Salt help boost the immune system. Bathing in Epsom Salt helps to stimulate the lymph system and circulate oxygen throughout the body. The salt bath helps keep toxins at bay in the body which can naturally drain the body and decrease immunity.
You will receive 3 ounces worth of Your choice of the following salts:
Herbal Bath Tea
No. 1 Ingredients:
Sea and Dead Salts, Epson Salt, Baking Soda, Calendula, Rosemary, Comfrey, Chamomile, Yarrow, Echinacea, Plantain, Hops, Nettle, Passion Flower, Rose Petals, Catnip, Mint, Red clover, Raspberry leaf, Thyme, Lemon Balm, Lavender, White Sage, EO: Tangerine, Lemongrass, Grapefruit, Basil, Peppermint, Sage, Lemon, Spearmint, Pine, Eucalyptus.
Herbal Bath Tea: Headache Relief Blend
No. 2 Ingredients:
Sea and Dead Salts, Epson Salt, Baking Soda, Rosemary, Chamomile, Yarrow, Lemon Balm, Valerian, Ginger, Plantain, EO: Rosemary, Lime, Anise, Tea Tree.
Herbal Bath Tea: Tension Tamer
No. 3 Ingredients:
Sea and Dead Salts, Epson Salt, Baking Soda, St. John's Wort, Valerian, Hops, Ginger, Licorice, White Sage, Dried Orange Peels, EO: Anise, Camphor, Lemon, Sage, Cinnamon, Peppermint.
Herbal Bath Tea: Relax
No. 4 Ingredients:
Sea and Dead Salts, Epson Salt, Baking Soda, Hops, Passion Flower, Valerian, Plantain, Fennel Seed, Rosehips, Raspberry Leaf, EO: Lavender, Oregano, Lemongrass
Directions for use:
Dried herbs, blended to perfection, are bagged in compost able large tea bag. Scoop a couple of scoops into These bath teas bring healthful benefits both through the skin and by breathing in the pure scents. No time for a bath? No tub? Bath Teas can all be used as foot baths or steams for positive effects. A basin of hot water and a towel are all you need! Relax & Enjoy!
Store salts in a cool dark place away from heat and moisture.
**As with any item containing herbs/essential oils, please consult your physician before using if you are pregnant, nursing or on medications.
Please read my shop policies before purchase.